Grimsby Auditorium
Grimsby Auditorium is one of the larger theatres in East England. Located on Grimsby, North East Lincolnshire, this theatre boasts a seating capacity of 1,200 and is the biggest professional theatre in Lincolnshire.
Grimsby Auditorium is managed on behalf of the North East Lincolnshire Council by ATG (Ambassador Theatre Group). Built in 1995, the theatre serves as a multi-purpose venue that hosts a number of live shows and events, including concerts, television broadcasts and theatre shows.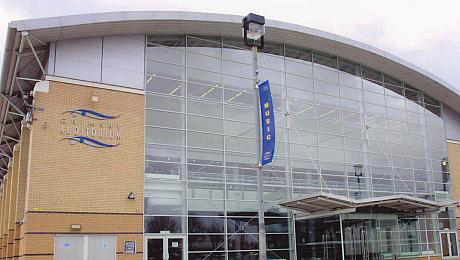 Theatre Design
Designed to be a flexible venue, Grimsby Auditorium features retractable raked seating, which transforms the theatre into a sports hall and arena-style venue. The theatre's design allows for varying seating formations, which can extend the seated 1,200 capacity to 2,000 standing patrons.
The venue is most commonly used as a proscenium style theatre. Its apron is 22 metres wide and 2.5 metres deep. Extensions can also be used to extend the stage for catwalk fashion shows or a thrust style stage.
Seating at the Auditorium consists of a stalls section, dress circle, left balcony, right balcony and rear balcony. Patrons can choose their own seats when purchasing tickets.
Theatre Amenities and Facilities
Grimsby Auditorium features a public bar, confectionary kiosk and coffee shop. The bar is open for interval, pre- and post-show drinks, but can get quite busy.
Access
The theatre is accessible to patrons with limited mobility with 12 wheelchair spaces and wide doors. Wheelchair spaces are located at ground level and in the front row of the circles or the back row of the stalls. Through the foyer, level access is available into the Auditorium, making it easy for patrons with limited mobility to enter the theatre and enjoy the show.
All theatre levels feature lift access. A front of house lift offers access to the theatre's balcony seating and the main bar.
For patrons with hearing impairments, an induction loop necklace is available. The induction loop necklace provides access to the infrared sound amplification system. Guide, working and hearing dogs are also welcome in any part of the theatre.
ATG Theatre Card
As an ATG Theatre Card member, you can enjoy many benefits when purchasing tickets for shows at Grimsby Auditorium, including:
Ticket discounts on select shows
No booking fees, free ticket exchange and no transaction charges on most performances
Priority booking
A discount at ATG theatre bars
Group Bookings
Planning to attend a show with a large group? Grimsby Auditorium offers discounts for group bookings and special offers for colleges and schools.
Group bookings offer numerous benefits. Tickets can be reserved now, but payments can be made later. When booking select shows, booking fees are waived. Discounts on ticket prices are also offered, and you have the option of reserving multiple shows at the same time.
Reservations can be amended and no deposits are required. Pre-book hospitality packages are available, and tickets will be posted to your door for free. In some cases, you also have the option of pre-ordering food and drink.
Theatre Productions
The Grimsby Auditorium plays host to a wide variety of shows, concerts and events. The venue's most recent productions include:
Eric and Little Ern
Eric and Little Ern is a homage to Britain's greatest comedy duo. The show recreates some of the best moments from the duo's stage and television performances and also features some new material.
Jackson Live in Concert
A recreation of the Michael Jackson experience performed by Ben, a talented, long-time fan of the late, great artist. Ben is joined by Band and Dancers on stage as the show works its way through the King of Pop's hits.
One Night of Queen
One Night of Queen has been running for more than 9 years and sold out shows all over the world. Featuring fantastic lighting and staging effects, Gary Mullen returns to the stage with 'The Works' for an unforgettable live concert event.
Stones in His Pockets
Stones in His Pockets has been seen by over 2 million people. A hilarious tale of a small Irish community turned on its head by a Hollywood shoot. Two highly talented actors play 15 characters in this moving story.
Holiday shows, such a Miracle on 34th Street, Remember When at Christmas and The Nutcracker, make an appearance every winter. These shows are an excellent opportunity to celebrate the holiday season and enjoy some quality time with friends and family.
Getting to the Theatre
Grimsby Theatre offers free-onsite parking as well as street parking.
The nearest rail is Grimsby Town.
Mini cabs are available.
Buses: 16
The Grimsby Auditorium is the largest theatre in Lincolnshire and plays host to some of the most popular shows in the theatre and concert circuit. Through the theatre's main website, show times can be explored and tickets can be booked. No matter whether you're in town for just a week or looking to plan a special evening out, look no further than the Grimsby Auditorium to provide you with a truly memorable experience.
You can find the address here, get contact details here and take a look at the seating plan here.